Det cirkulerar i alternativa och sociala medier påståenden om att Donald Trump tagit över kontrollen över Federal Reserve och slängt ut alla otäcka bankirfamiljer med illvilliga avsikter. Författaren och ledaren för det sydafrikanska Ubuntupartiet Michael Tellinger berättar i sin videologg Trump Takes Control of the FED (med över 200 000 visningar) att USAs finansdepartement nu kontrollerar Fed och att detta är goda nyheter. Tellinger menar att det är bland det största som hänt under de senaste 250 åren.
President Donald J. Trump has quietly taken over the Federal Reserve Bank of the USA, in the last 2 weeks of March 2020 – without any fanfare or massive media exposure. In a cunning move, Trump is now in complete control of the largest Reserve Bank on Earth – without any violence or bloodshed – by simply absorbing the FED into the Treasury Department.[1]
För det första finns ingen information om ett eventuellt "övertagande" av Federal Reserve – som ända sedan Federal Reserve Act lobbades igenom med hjälp av David Rockefellers morfar, Nelson Aldrich, 1913 – varit en sorts public-private partnership (med .gov webadress sedan 1998). Dess ordförande tillsätts av landets president.
Det lilla kornet av sanning i detta är att man snarare försökt nationalisera skulder och vältra över dem på skattebetalarna, genom att anlita det hänsynslösa investmentbolaget BlackRock, känt som "the company that owns the world".[2] Detta då Fed enligt lag inte själva får köpa upp värdepapper utan statliga garantier.
Since the Fed does not have the legal right to purchase securities that do not have government guarantees, BlackRock and special-purpose vehicles were a solution.[3]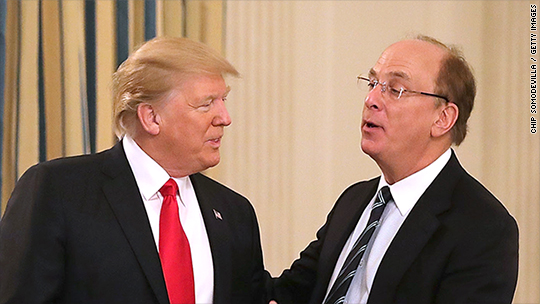 BlackRocks VD och medgrundare Fink, en av världens största riskkapitalister och medlem av Trilaterala Kommissionen samt World Economic Forums styrelse, har anlitats av Federal Reserve för att hjälpa till att "stabilisera kreditmarknaden" i Coronakrisens spår.[4] Detta innebär enligt New York Times att BlackRock kan profitera på de råd som ge ger:
Under one of the programs that BlackRock will help lead, the Fed can buy exchange-traded funds that hold stakes in investment-grade bonds, a type of investment that BlackRock sells.[4]
Det är samma förfarande som efter finanskrisen 2008. Även den gången jobbade BlackRock tätt tillsammans med Federal Reserve. Staten och kapitalet sitter i samma båt och storskurkarna styr skutan oberoende av vem som har presidentposten.[5]
Fink var dessutom tidigare Trumps personliga fondförvaltare.
Larry did a great job for me. He managed a lot of my money. I have to tell you, he got me great returns. (Donald Trump)[6]
Fink (livslång sympatisör av Demokraterna och supporter av Trumps hatobjekt Hillary Clinton!) mottog 2016 David Rockefeller Award på MoMA under den sista prisceremonin där David Sr. själv var med. Deltog gjorde bland annat Henry Kravis (stenrik investerare och republikan som gav 1 miljon dollar till Trumps presidentinvigning) och hans fru Marie Josee (Bilderberggruppens ena ordförande).[7]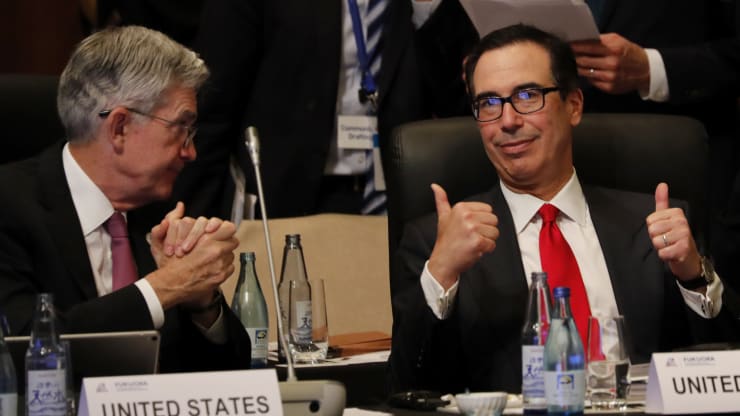 Sedan har vi Trumps finansminister, Steven Mnuchin, en investmentbankir med rötterna i Goldman Sachs som tidigare varit partner med Trumps "ärkefiende" George Soros i SFM Capital Management (denna firma finansierade även ett par av Trumps projekt). Under förra finanskrisen blev han, som VD för banken IndyMac, ökänd som "tvångsförsäljningarnas okrönte konung" när tusentals husägare med fula metoder tvingades från hem och egendom.[8] Här kan man verkligen tala om att låta "räven vakta hönshuset"!
Det är onekligen en bedrift av stora mått att Trump lyckats få en Messiasstatus bland sina följare världen över med tanke på hans ensidiga stöd till alla storbedragare i Mammons ledband. Det är som att lyckas göra en kulinarisk delikatess av en bajskorv.
Källor
[1] Trump Takes Control of the FED – Leads the way for other countries to follow, Michael Tellinger, YouTube, 8 maj 2020
[2] BlackRock – The company that owns the world?, Investigate Europe, 6 maj 2018
[3] THE FED'S NEW ASSET-BUYING PROGRAMS: NATIONALIZATION OF FINANCIAL MARKETS?, Mises Institute, 10 april 2020
[4] A Glaring New Conflict Of Interest Undermines Public Trust In Federal Reserve, Forbes, 20 maj 2020
[5] The Fed Asks for BlackRock's Help in an Echo of 2008, New York Times, 25 mars 2020
[6] The world's largest money manager warns of 'dark shadows', CNN, 8 feb 2017
[7] David Rockefeller hosts some of the world's wealthiest at MOMA, New York Post, 10 april 2016
[8] Steven Mnuchin, Foreclosure King Of America, Huffington Post, 7 nov 2017
---
Läs även: Trumfkortet Trump